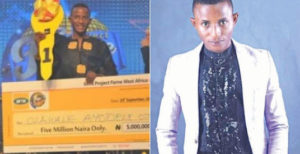 Oawale Ojo who came to limelight after emerging winner of the 2013 MTN project Fame is definitely facing some challenges.
Olawale who had won the sixth edition of the singing contest had struggled in recent years in getting the attention for his songs. He has been off the music scene for a while now until he was discovered by journalist, Tope Delano who ordered a cab on her phone and her driver turned out to be Olawale.
Acording to the interview, Olawale had opened up about his struggle and how he has embraced his new life.
Watch below: