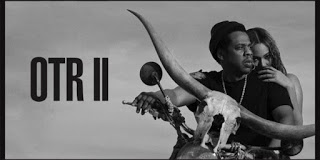 After so much aniticipation, Beyonce and Jay-Z have officially announced their tour "On The Run II".

Everyone had expected this with several rumours going around and alsocouple with the fact that Beyonce had listed a date for the tour but quickly took it down from her facebook.
Now they made the announcement with a video which was released on Monday, indicating that the tour will kick off on June 6.
This is oming fater their On The Run Tour which featured Jay-Z performing songs from his album "Magna Carta Holy Grail" and Beyonce from her self titiled album.
The upcoming OTR II tour will feature songs from Beyonce's album "Lemonade" and Jay-Z's "4:44" which both talked about Jay-Z cheating in their marriage.
The tour poster of Jay-Z and Beyonce referenced "Touki Bouki:, is a 1973 Senegalese film about two lovers who steal money and clothing, then book passage to Paris to start a new life.
See the video below: