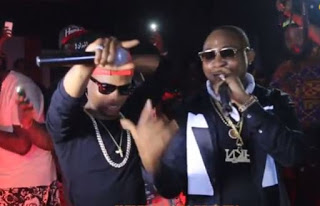 It's like the rivalry between Wizkid and Davido might be coming to an end very soon with the way Davido vibes hard to Wizkid's song with his crew.

Davido posted a video on his instagram page which saw him and gang singing along words for words to Wizkid's "Baba Nla" song.
Before now, the two have been reported to be in involve in a beef which seems like it's not going to end.
Even as we don't know what actually caused their disgreement, we are still head up for both to settle their quarrel.
It was reported recently that the fight between them was actually caused by the little disagreement between Wizkid's manager, Sunday Are and Tekno of which Davido stood to defend the latter.
All we know for now is that both are Nigerian music stars and have definitley made Nigeria proud with their individual awards at the MOBO Award ceremony.