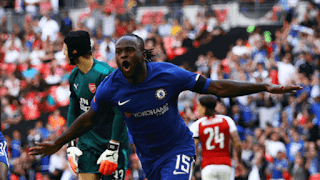 Nigerian midfielder, Victor Moses looks forward to clinching the African footballer of year after he was nominated for his last season outstanding performance in Chelsea.

Moses is being nominated among other players like Salah and Mane of Liverpool, Keita of Lipzig and Aubameyang of Dortmund.
Moses who helped Chelsea to clinch the English premier league title last season and also helped Nigeria qualify for the world cup without a loss said:
"I am very proud and delighted. it's been a great year form me and i'm very happy with how it went. I want to continue in that way.
"I must have done well to have been nominated for the award. I have worked so hard to be among the nominees and i guess they saw that. I played a vital part in our league win, and i am pleased things have been recently.
"It would be great to win an award and be the best in Africa. It would mean a lot to me. It is something i would keep for the rest of my life, and it would be like a dream come true. We will see the outcome."