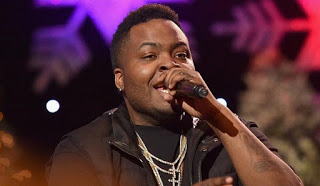 Singer Sean Kingston was at the BBC Radio 1's Smashed with Sloth where he discussed about his past relationships and work in progress.

According to the interview which surfaced online, Sean Kingston was asked by the host, Charlie Sloth to choose one person each in the category of who he will love to marry, adult wrestle and who he alwys want to avoid.
For the wife, he choses Lauren London, for the adult wrestle (Smash) he chooses Megan Godd and for who he will love to avoid he jokingly said Bow Wow.
Also things get along when Charlie asked Sean who he has ever adult wrestle of which he simply called Serena Williams.
Sean Kingston further explained his relationship with Serena where he said both really get along with each other so well that sometimes when they dined together, she usually pick up the bills.
When asked by Sloth if they still maintain contact, Sean simply replied that he still sent her congratulation message when she announced that she was expecying a child with her husband and co-owner of Reddit, Alexis Ohanian.
Watch clip from the interview below: