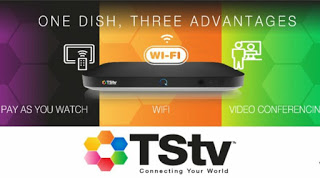 TSTV decoder price , TSTV subscription fees, its packages, channels list, TSTV features, where you can purchase and everything you need to know about the new Dstv rivals.

Not everyone in the country has been able to enjoy DSTV to its maximmum bebfits due to its high amount for premium subscription.
So, TSTV is here to serve viewers better with its pay as you consume model and based on the company statement, it is here to revolutionize pay cable tv in Nigeria.
WHAT IS TSTV?
TSTV which meansTelecom Satelite TV, is the first pay as you consume cable Tv ever to be kaunched in Nigeria on 1st October, 2017.
TSTv which is owned by Bright Echefu, is a DHT pay Tv that offers both local and international channels with lots of packages for entertainment, news , sports and others.
FEATURES OF TSTV
TSTv has so many features to serve all the fun you so much desire. Below are the list of its notable features:
It offers pause and play: It simply means you will only be charged for what you use.
With TSTv, be rest assured that you won't miss your favourite Premier league matches,Champions league, La Liga and so on, thus bringing the end of multichoice monopoly in Nigeria.
TSTv comes with free 20GB of data for surfing the internet.
TSTv provides an opportunity for you to browse with your phones, laptops through its Wifi and hotspot enabled program.
TSTv also comes with 50GB storage space for you to record your favourite program to watch later.
HOW MUCH IS TSTV?
I know you are thinking that with all all these features, it will cost a fortune to own a TSTv but hell no, TSTV decoder plus dish will only go for an amount of N5,000 naira only.
I guess your mind is all cool now…Lol
TSTV SUBSCRIPTION FEES
TSTv subscription is very much affordable as you can get a package for as low as N2,000.
Below are the list for the subscription fees and packages.
TSTv daily plan – N200 plus 500MB
TSTv 3 days plan – N500 plus 1GB
TSTv Weekly plan – N750 plus 2GB
TSTv 10 days plan – N1,000 plus 3GB
TSTv 2 Weeks plan – N1,500 plus 5GB
TSTv Monthly Plan – N3,000 Plus 10GB
Where to Purchase TSTV In Nigeria
TSTv which will be launching on Nigeria independence day, ist of october, will be avalable over all the states but will first of all be launched in Lagos, Abuja, Porthacourt, Kano and Owerri.
TSTV Channels List
Based on what we learnt from the compnay, TSTv will serve over 200 channels for its subscribers with lots of entertainment, sports, kids, news, health channels, to enjoy from.
The list of channels include:
TSTV Sport Channels
star sports
Fox sports
Euro sports news
Euro sports2
Kwese free sports
Kwese ESPN
MS Extreme
Bein sports Max 4HD
Bein sports 3HD
Bein sports global
Bein sports Max (Bein sports 1- 10)
TS Sports 4HD
TS Sports2
TS Sports3
Yolo sports HD
TSTV News Channels
BBC America
CNBC
Aljazeera
BBC Radio
TVC News
United States Of America Embassy
Sky News
Arewa24
AIT
Core TV News
France 24
CCTV News
Channels TV
DW
Fox News
TRT World
Press TV
NTA
Arise News
TV360 Nigeria
TSTV Kiddies Channel
Nickelodeon
CN Cartoon Network
Disney Channel
Boing
Jimjam
Baby TV
Panda Biggs
TSTV Movies Channels
Star Movies
MBC action
MBC2
African Movie channel series
Liberty Tv
MBC Bollywood
Wazobia TV
Wap Tv
Viasat TV
Fine Living
Fox
Fox Life
Investigation Discovery
MBC4
Mbox HD
PCTV
Star Gold TV
Nollywood TV
Z Cinema
E Entertainment
Ben Bridging The Gap
BET
Ts Novella
TS Movies HD
TS Series

TSTV Religion Channls
Dove Television
Emmanuel TV
Sunna Tv
Mountain Of Fire And Miracle Ministries
EWTN
TBN Network

TSTV Music Channels
Trace Urban Africa
HITS TV
MTV Base
TLC (HD)
DSTV Versus TSTV

Other TSTV Channels
Discovery Channel
Nat Geo Gold
AD
National Geography Channel
Discovery Health TV
Fashion One
AHTV
TSTV African Channels
Riwa Ndu TV
TS Hausa
TS Igbo
TS Yoruba
mbtTOC();