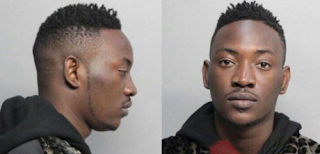 Popular On air presenter, Freeze gives his own side of what he thinks about the arrest of the Nigerian singer Dammy Krane.

OAP Freeze has made us go know that in his own opinion, Dammy Krane is a good man and we should not define him just by one mistake.
He said that he has a lot of respect for the gentleman and we should not judge him based on what is happening right now most especially as there can be a lot of pressure on entertainers.
Read his statement below:
"This gentleman is a good person. One of the most respectful young people I know. One mistake doesn't define him.

The pressure on entertainers, especially the young ones is unimaginably enormous.
Born into a nation where money is king doesn't help either.

Young people, please don't bow to societal pressure to conform, be yourself, money is not the only currency you can spend so don't engage in fraudulent activities to get it!

Understand the language of your talent, speak it well and your success will be televised. ~FRZ (bible teacher, servant of the true God, Convener, #FreeTheSheeple movement, leader, #TheFreeNation)🙏"
Do you think social media usually have negative effect on entertainers? Drop your comments