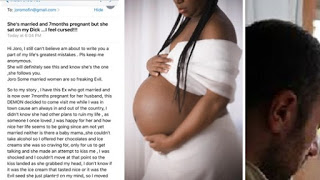 A Nigerian man fels very remorseful after having a quickie with his ex-girlfriend who is seven months pregnant.

The man who is currently disturbed within him, opens up on how she had administered oral s*x to him as well as sitting on his manhood for a brief s*x romp.
The man is now scared of Karma as he fears that his wife could be treated the same way.
Relationship adviser, Joro Olumofin, took to social media to share the story.
Read below: