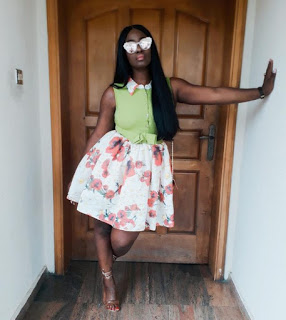 Big brother Naija ex-housemate, Uriel was made to reveal the secret no one could have ever know when she replied to a fan comment on her social media.

Uriel shared a photo of herself rocking a beautiful outfit but she was quickly attacked by a fan who says the same outfit looked Debbie Rise wore.
The fan said: "We have notice ooooo Uriel always taking pic in front of ur door..that dress look like the one Debi wore to welcome simi the day she came to the BBN house."
Of course Uriel immediately defended herself by revealing that Debie Rise actually borrowed the dress to welcome Simi.
"It is she wore my dress"
She also spoke about not bleaching her skin for anything in this world, "I love my black skin i will never bleach or tone…why should i do something to my ebony rich skin, no amount of money can buy this skin Tone.. biko let me rock my black skin."