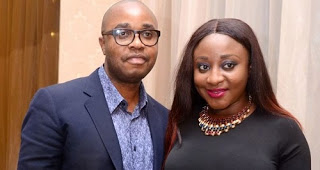 Nollywood actress, Ini Edo has finally opens up on her failed marriage as she said she has no regrets whatsoever that the marriage of 6 years to her husband has ended.

However, the 35 yr old actress got married to an American based Nigerian bussinessman, Philip in 2008 but she walked out of the marriage in 2014 following accusations of domestic violence and cheating.
While speaking on Channels Television in a programme "Rubbin minds", the beautiful actress stated that the irreconcilable differences and incompatibility are the major reasons for the crash of their marriage.
Ini Edo also said that closeness should have saved her marriage since her husband was in America and she is in Nigeria. According to her, "May be being together would have helped keep us together, Because it will enable us study and understand eacj other more. May be it would have helped but i'm not sure."
When aked if her estranged husband was comfortable with her kind of job, she said,
"He met me an actress and i believe he was okay with that. Actaully he compalined. My work takes my time and interferes with so many things. I tried to keep my movie role(s) as decent as possible when i got married."