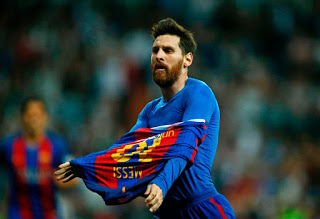 Barcelona star, Lionel Messi has revealed he's only asked one player in his entire career to swap shirts at the end of a game.

Just to know that many still appraoch Messi at the end of games just to get their hands on his shirt yet Messi has only done the same to a single player which is Real Madrid legend – Zinedine Zidane.
in his words:
"I am not one to ask to swap shirts, i asked, once…I asked Zidane.
"I don't asked for shirts. If there is an Argentine, i will swap with an Argentine. If not and there is someone else that asks me, i will swap it with them. If not, i do not look and do not ask."
However, Messi crossed the football legend, Zidane at the path of Messi's career and the Argentine is not ashamed to admit he begged to get his hands on the rival's top.