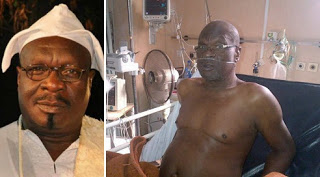 According to the personal assistant who was with him when he passed away, the popular actor, Olumide Bakare died in the early hours of Saturday morning.

From reports we gathered, it was said that Olumide Bakare was discharged from the University College Hospital (UCH) last year where he was diagnosed with a respiratory disorder problem.
Although he was yet to have fully recover from the illness but his condition got worse in the middle of the night when it was said that the cator called his personal assistant to take him to the hospital of which he died before he could be conveyed to the hospital.
Confirming his death to tribune this morning on phone, actor, Saidi Balogun said he received the news of his death with shock but had to confirm it was true.
"Yes it is true Olumide Bakare is dead. He died on his way to his hospital. When i called his phone, his personal assitant picked his phone and told me he was dead. That's how much i can say for now."