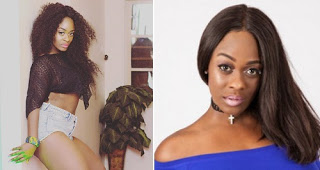 Few weeks back, the Big Brother Naija Housemate, Uriel had cried on Instagram to plead with the Imo State Government to host her like other housemates who were given heroic welcome.

On the video she shared on the instagram, she revealed she's an indigene of Imo state and she's proud of her roots despiete her 'foreign accent'.
She shared the video of herself crying for the party and captioned it:
"Pls ooo i'm a princess too my Grandfather Vitus Gogo Okwuosa was a king..I want home coming…Looool i'm baking my makeup…This is my campaign to explore the East and i'm sticking to it lol."
Watch Video below:
However, just few days after her drama on instagram, Uriel has finally gotten her wish granted as the Office of the SA on Entertainment and Public Affairs in collaboration with Yellow Mouth Concept, has organized a home coming party for Uriel, of which will be accomapanied by her ex-housemates, Kemen, Thin Tall Tony, Cocoice and Gifty.