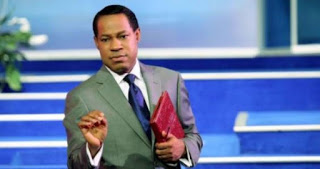 For the past 3 years now, Pastor Chris Oyakhilome of Christ Embassy also known as Believers Loveworld Nation, has been saying it on several occassions that Jesus is coming.

During the International Cell Leaders Conference, ICLC in 2014 for the church ministers and leaders, pastor Chris shed more light on the glorious coming of our Lord and saviour Jeus Christ as he was moved to tears.
In the message, he pointed out to the ministers that the reason the gospel must be preached is because Jesus is coming again.
In his words:
"Prepared your life, Jesus is coming again for a church without a spot, wrinkle or any blemish, a church that is holy and Un-defiled, a church that is living and walking in faith."
Also during the last global communion service, Pastor Chris re-empahasized on the second coming of Jesus Christ and admonish the brethren to take it seriously as the Lord is coming sooner and the world is very close to the end.
He aslo announced that he will share a full message on the second coming of Jesus Christ, the signs fulfilled, what is expected of Born again Christians and how they should live be prepared.
For there is no other name given among men, by which a man can be saved, except the name of Jesus. The gospel must be preached.
Watch Video below