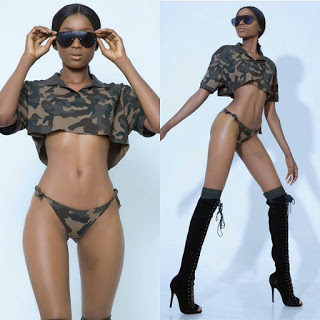 Popular fashion blogger and sister to Linda Ikeji, Laura Ikeji Kanu, is not happy with the way models are being treated in Nigeria.

She shared the above photo on social media and had this to say about modelling industry in the country;
"In America or Europe, a model with this type of body who has done virtually all the big fashion shows home and abroad will be driving a exotic car and would live in a house of her own. But in Naija, models are broke, i don't know a model who drives a very nice car or has her own house or can boast of millions in his or her account.


Modelling in Nigeria isn't respected like it is everywhere. No model has aface in Nigeria, endorsements or anything that can make them big as individuals. Infact they get their breakthrough when they go to other industries.


How much are these hardworking people even paid per show? You would be amazed. These young people work so hard to keep their entire body only to retire from modelling with nothing.


Respect the model, pay them well, give them endorsements, write about them, make them as relevant as the actresses you write about daily, make them important like musicians you hold in high esteem.


There's an industry called the modelling industry. Nigerians let's start recognising that industry, pay them well, they deserve it".
What do you think?