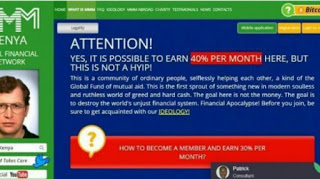 The popular and controversial ponzi scheme, MMM, has now announced its presence in Kenya barely 48 hours after leaving over 3 million Nigerians heartbroken.

The ponzi scheme is now promising the participants in Kenya a profit of 40% for every investment made.
This is higher than the 30% profit it offered to investors in Nigeria. You should also note that before this money doubling scheme arrived in Nigeria, it has also plied its trade in other African countries like South Africa and Zimbabwe.
Earlier this year, South Africans who took part in the scheme had their accounts frozen, and up till now it still remained that way.
Lets see what is going to be next thing as several Nigerians are still skeptical about the continuation of the scheme, while others are basking in the aura of optimism as they still look forward to January 2017.