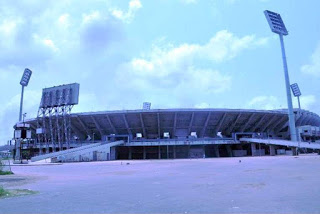 The Lagos state government has said that it's getting set to build 5 new stadiums in different divisions of the state in it's quest
to rpomote excellence in sports and market the state through sports tourism.
Steve Ayorinde who is the commisioner for information and strategy, made the assertion on Wednesday while unveiling Lagos at the host city, Beach Soccer Africa Cup Of Nations 2016.
Mr Ayorinde also said that he 5 Stadia were already captured in the state 2017 budget proposal. He said that Lagos as the centre of excellence has been number one in sports and enetertainment and believed in using sport to sell the mega city.
Mr. Ayorinde has siad that the government will be sponsoring the 2nd Beach Soccer Africa Cup Of Nations which will be holding from December 13 to 18 at the Eko Atlantic, because it believe in shocasing not just sporst but its tourism potential.
He noted that two major components had been built into the hosting which is sports and tourism, arts and entertainment, in order to achieve the state quest to make Lagos the sports hub in Africa.
However, Mr. Ayorinde said the government had partnered with countries that excel in sports and many organizations to promote a culture of sports.