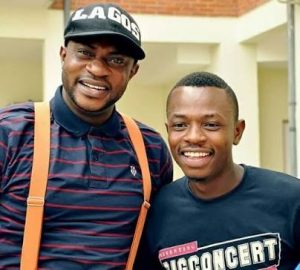 New Bride, Blessing Adekola
A few days ago, actor, Odunlade
Adekola's younger brother, Oyekanmi, who is also an actor, walked down
the aisle with his fiancee, Blessing Oluwatomisin Adebori, at Ilugun
High School, Abeokuta. Top Yoruba actors and actresses trooped out to
witness the event. Blessing is the last daughter of a family of four.
Education for her started in Abeokuta
where she met her husband at the Moshood Abiola Polytechnic in 2010. She
is the daughter of a retired printer and nurse in Abeokuta. City
People's GBOLAHAN ADETAYO was at the party and he exclusively conducted
the first interview with the newly married wife of the Adekola family.
How do you feel today?
I feel great and honoured to see a
beautiful day as this. I am grateful to God for giving me this kind of
opportunity. I am short of words. I don't know what to say. I just want
to give glory to the Almighty God.
How did you meet your husband?
We met in school; we were classmates at
the Moshood Abiola Polytechnic, Mass Communication class. That was in
2010 to be precise. We were best friends, but what really attracted us
to each other was religion. I agreed to his proposal because God has
chosen us to be one and we are meant for each other. I knew it was
God's plan.
Did you know he related to Odunlade Adekola before you started a relationship?
I didn't even know until a few months
after we started the relationship. In the first place, I didn't believe
Odunlade Adekola's brother was in my school, not to talk of being my
classmate or best friend. I am the kind of person who does not mingle
or attach herself to people; I didn't believe it until I confirmed it. I
asked him that I was told Odunlade Adekola's brother was in our class
and he confirmed it.
What really made you go for Oyekanmi?
Being a born-again Christian doesn't
mean you shouldn't do some things that an average human being will do.
Actors are human beings like us. The fact that they play roles in
movies doesn't mean they belong to Satan or other black power caucus,
most of them are religious and my husband is one of them.
What is it about him that you don't like, which you may wish to change?
Well, I don't even know what to say
because we were best friends before our marriage and I do not see any
bad thing about him. Our friendship will continue and I pray it lasts
forever. I am just ready to obey the will of God. Anything God says
about him, I am ready to do.
How do you want to cope with not seeing him for days after he must have gone to a movie location?
In as much as his brother's wife copes
despite his status and busy schedule, I will surely cope. And I will
like to say I am used to it because one way or the other, he has been
going with his brother and they used to spend days at locations before
they return so, there is not much about it.
Do we also see yourself acting one day?
When it comes to acting, I don't really like it, but if I am ever going to do so, it has to be with a gospel film.
Source Citypeople