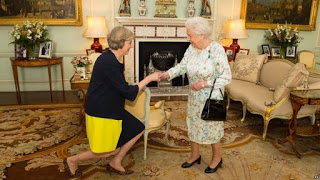 Theresa May
replaced David Cameron as Britain's prime minister on Wednesday,
assuming responsibility for the monumental task of negotiating a complex
divorce from the European Union.

May, 59, assumed office after an audience with Queen Elizabeth. An
official photograph showed her curtseying and shaking hands with the
smiling monarch, for whom she is the 13th prime minister in a line that
started with Winston Churchill.
However the photo above shows her kneeling and we can only but wonder where the respect she showed off was gotten from.
She is also Britain's second female head of government after Margaret Thatcher.
May is seen by her supporters as a safe pair of hands to steer the
country through the disruptive Brexit process. Colleagues describe her
as cautious, unflappable and intensely private.
"I think around the cabinet table yesterday the feeling was that
we have our Angela Merkel," said Jeremy Hunt, health secretary in
Cameron's team which met for the last time on Tuesday.
"We have an incredibly tough, shrewd, determined and principled
person to lead those negotiations for Britain," Hunt told Sky News
television.
The new British leader is expected to immediately start putting together
a new cabinet, a complex political balancing act in which she will try
to satisfy opposing camps in her party.
What do you think?
Source: 36ng