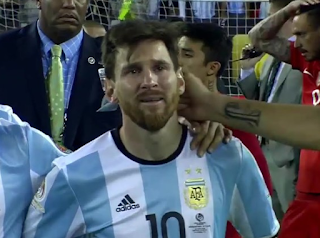 Lionel Messi's apparent final game as an Argentina
player was to blast a penalty kick over the crossbar, inducing a chain
of events that ended in his retirement from the national team he brought
to three Copa America finals and a World Cup championship game.

Lionel Messi was Argentina's
first penalty taker in Sunday's shootout, propelling his effort. That
didn't seem so consequential at the time, as Chile's Arturo Vidal,
shooting first, had already seen his soft effort saved by Sergio Romero.
But Lucas Biglia would miss the Argentines' fourth attempt as well, and
the Chileans, having missed no other shots, won 4-2 to become the
champions yet again.
Messi really cried, obviously this is his final game!
"The national team is over for me," other reports quoted him as
saying. "It's not for me after four finals. The decision is taken, I
believe."
Another photo below;