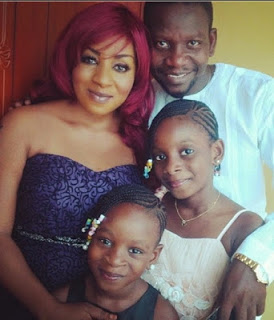 Just of recent, Mide Funmi Martins has confirmed her marriage to movie director Afeez Abiodun Owo has crashed in a series of instagram posts.

The crack in the marriage was first noticed by her social media followers after she refused to celebrate her husband on his birthday.
However, to cut the long story short, the mother of two has taken over from Toyin Aimakhu as Nollywood Queen of marriage drama.
According to Encomium weekly, here are the top three factors that led to her marriage crash.
INFEDILTY
There were strong infedilty rumours two years ago when the couple were said to have seperated because the husband could no longer bear the wife's unfaithfulness. The husband was allegedly sighted with another love interest while the wife stayed low key.

SUPERIORITY
There has always been the issue of superiority in the marriage where many consider the husband as inferior to Mide,in terms of looks. She also admitted that much in a recent interview that she's fine with marrying an ungly man. "It is obvious that i am pretty, but i love him like that, love is not about being beautiful or being handsome," she said.

JUJU/LOVE PORTION CHARM
There has also been rumours circulating around that Afeez used juju on her. Although, Mide addressed the issue as jargon as she said, "How can someone use juju on you for 13 years, i am married to him and even with two kids."