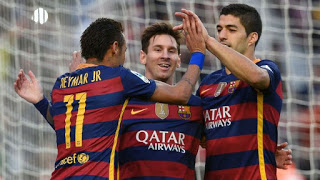 Barcelona star, Lionel Messi will undergo a medical treatment for kidney stones on Tuesday but he is still not expected to miss Wednesday's match against Valencia because of the treatment.
However, the 28yr old forward who was sidelined by kidney stones during the world club cup semifinal this past December, was not able to train on Monday because test had detected more kidney problems.

A club statement read: "FC Barcelona striker Lionel Messi will
undergo several tests on Monday and Tuesday to assess the evolution of
the kidney problems he suffered last December. Messi will return to his
normal duties with the first team on Wednesday."
According to Mundo Deportivo,
the Argentina international will be treated at the Dexeus university
hospital in Barcelona, where he will receive shock wave lithotripsy, a
non-invasive treatment that breaks up the stones into tiny pieces.
Barcelona will travel to Valencia on Wednesday for the second leg of the Copa dey Rey semifinal, which Messi is even not needed after his side having a 7-0 advantage.