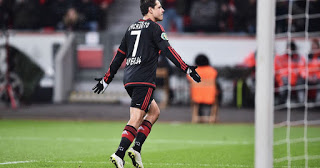 Javier Hernandez 'Chicharito' scored for bayern leverkusen to put his side ahead in their German league match against Weder Bremen, but that wasn't enough to secure them a win as they were later eliminated from the competition by 3-1.

However, Chicharito had a injury in the second half which made Bayern leverkusen to decide who to use as a subtitute.
Last weeked, they also ended up playing 0-0 draw with Bayern munich in their league match of which Hernandez played 90minutes withou a goal.
The question is, can Bayern leverkusen cope without Javier Hernandez? even when they are yet to discover that he is thier secret weapon to goal scoring after making a total of 13 goals.