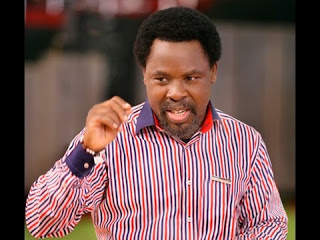 In a fresh suit filed by the Registered trustees of the synagogue church of All Nations, founded by Prophet TB Joshua, to stop the Lagos state Government from going ahead with their prosecution over the death of 116 persons on September 12, 2014 when a storey building collapsed on the premises of the church in Ikotun area of the state, before Justice Kazeem Alogba of Ikeja High Court,
the Trustees of the church are asking the court to stop their proposed arraignment before Justice Lawal Lateef-Akapo of the same court.
The Lagos State Government had had filed 111 counts against the
Registered Trustees of SCOAN, two engineers and two companies over the
death of the 116 persons.
The arraignment of the accused had been scheduled for Tuesday, January 19, 2016 before Justice Lawal-Akapo.
But in their fresh action, the applicants are urging Justice Alogba
to call for the record of proceedings of a Lagos State Coroner Court,
presided by Mr. Oyetade Komolafe, which indicted them and recommended
them for criminal prosecutions.
Komolafe, who conducted an inquest into the death of the 116 victims
of the SCOAN's building collapse, had on July 8, 2015 decided that the
building which killed them was built without approval, adding that its
collapse was due to structural defect.
But SCOAN and its engineers – Messrs Oladele Ogundeji and Akinbela
Fatiregun, had rejected the verdict, describing it as unreasonable and
one-sided.
In September 2015, Justice Ibrahim Buba of the Federal High Court in
Lagos had dismissed two similar actions filed by the engineers to squash
the coroner's verdict and prevent their arraignment.
In their fresh suit before Justice Alogba, they are seeking a judicial
review of the Coroner's proceedings, for the purpose of quashing it.
They are also seeking an order of perpetual injunction restraining
the Attorney General of Lagos State, Mr. Adeniji Kazeem, or any officer
under his authority from taking any step to enforce the recommendations
of the Coroner, including their prosecution.
When the matter came up on Monday before Justice Alogba, the case could
not go on as Magistrate Komolafe was absent in court and was not
represented by any lawyer.
But a lawyer who represented the Attorney General, Barr. A. O Idowu
however pleaded with the court for time to file a response to the suit,
while Justice Alogba adjourned till February 4, 2016 for hearing.
Meanwhile, the State Government has vowed to challenge the fresh suit,
as government was desirous of pursuing the issues relating to the matter
to a logical conclusion.
SIGNED
BOLA AKINGBADE
DEPUTY DIRECTOR, PUBLIC RELATIONS
MINISTRY OF JUSTICE
JANUARY 18, 2016